Episodes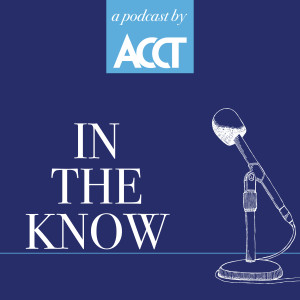 Tuesday Nov 26, 2019
Tuesday Nov 26, 2019
The United States has a unique, ever-changing culture made up of people who migrate from throughout the rest of the world. Committed to open educational access, diversity and inclusiveness, community colleges have a special and vital role in guaranteeing a high-quality education to everyone in the country. Paying attention to demographic changes today and knowing what to expect tomorrow are imperatives for community college leaders.
In this episode of In the Know with ACCT, Pew Research Center Director of Global Migration and Demography Mark Hugo Lopez addresses the changing demographics of people within the United States.
Topics discussed include:
What are diversity, equity and inclusion from a research perspective?
How are these principles embraced today compared with how they were seen decades ago?
How does the American perception of diversity, equity and inclusion compare with that of other parts of the world?
How does the political partisanship seen in the media compare with research-based understanding of people's perceptions of diverse cultures within the United States?
Are diversity and immigration one and the same?
How do geographic and generational considerations relate to these issues?
How do perceptions of higher education vary among racial and ethnic groups? What about different generations?
How could changes to the 2020 Census affect perceptions of diversity and personal identity? 
Will future generations give greater or lesser attention to discrete aspects of diversity and differences?
For more information from Pew Research Center, visit www.pewresearch.org.