Episodes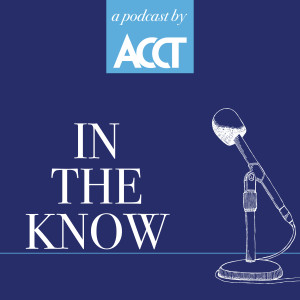 Tuesday Jul 24, 2018
Tuesday Jul 24, 2018
Our eleventh episode features a discussion between ACCT President and CEO J. Noah Brown and Sarah Crawford, national education director at Single Stop USA.
Of the 12 million students enrolled in community college, half drop out. Many do so because of financial barriers. Completing school is not merely an educational achievement, but leads to better jobs and a more secure financial future. The unemployment rate for those with an associate degree is just over 4%. Early reports show that Single Stop can increase retention by double digits, helping families, increasing the skilled labor force, and growing the national economy.
Crawford explains how the Single Stop model works, and discusses the findings of a forthcoming study that describes how Single Stop's services helped increase students' academic persistence.
Subscribe on iPhone/iPad via iTunes https://apple.co/2w68ejq
Subscribe on Android via Google Play http://bit.ly/2HJRKyL